There is our hospitality here that we can only do.
It is the official mascot character "Hidamari-ne".

Hello!
I'm "Mario" from "Hidamari-nu" who lives in OKAYAMA VIEW HOTEL!
"Hidamari" and "dog", which represent the warmth of the hotel, are combined and called "Hidamari-nu"!

There is a house at the front door of the hotel!
I'm always preparing to take a picture with Minna!

Also please look forward to appearing in various places such as inside the facility and pamphlets!
I'll introduce my friends☆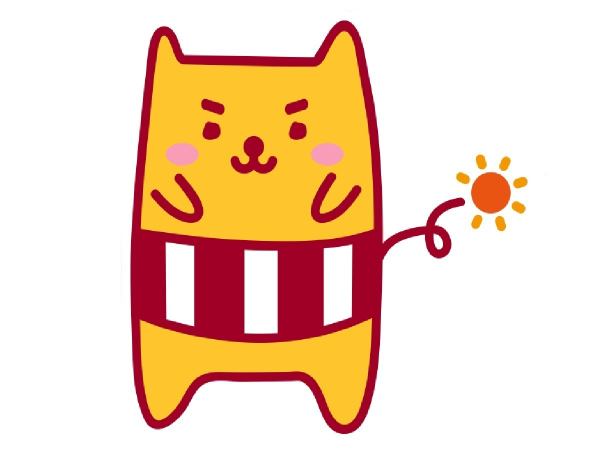 Our original ethical products!
Original ethical product "Omoiyari Lab" Please take as a souvenir☆彡

We sell our original ethical products in front of the front desk.
Its name is "OMOIYARI LAB"

Our original coffee and spices
The only pouch in the world that uses Ibara denim scraps
Our hotel mascot Hidamari-Nu key chain made by A-type office facilities
Okayama coriander coriander snacks that you can enjoy in your room
Okayama Prefecture Yubara Onsen bath salts, our original stew (refrigerated), etc.
Items are increasing one after another!

Please purchase original goods that can only be purchased here as memories of your trip or as souvenirs for your loved ones.☆

※Part of the sales is used for children's cafeterias and child-rearing support.
  The shelves on which the products are placed are also ethical shelves with up-cycled flooring waste!
Would you like to say "Thank you" to your loved ones?

~The postcard is placed on the desk of all the guest rooms~
When I got a bit of relief in the room,
Now, please remember a little important person.

A wife who is protecting the family during his absence,
master, Cute child.
Parents, grandpas, and grandmas who live far away.
A friend who has not met her recently,
Professors who took care of us a long time ago, such as teacher.
Why don't you use a postcard to say thank you that you can't usually say?

Please bring this postcard to the front desk when you write the message.
I will post one stamped stamp for free.
Of course you can take it home with you.
We also sell postcards at the front desk.
Full of information on hotels and areas☆Handmade newspaper

All the rooms were handmade by the staff,
"View News" is placed in the room.

We will inform you of tough information and information useful for surroundings at a pace once every three months.
It is not a mechanical one launched by PC,
I hope that the hospitality of our hospitality will be conveyed by the staff's handwriting.

I can not say that it is beautiful in flattery, but since I am writing so hard, please look through.
I would be pleased if you read with relaxed feeling even in the time of relaxing in the room!
Lunch box to eat in the room at night◆"Three Cs Avoidance Bento"
We will make a lunch box at night so that you can enjoy it in your room.
We will make it after receiving your order, so it is fresh!

·Bizen Kuroge-wagyu white beef stew ... 1,550 yen(tax included)
·Red pork stew of peach pork from Okayama ... 1,350 yen(tax included)
·Teppanyaki steak lunch of Bizen Kuroge-wagyu... 1,800 yen(tax included)
·Gokan special hamburger lunch ... ¥ 1,100(tax included)
·Okayama Forest Chicken Teppanyaki Bento ... 900 yen(tax included)
·Chef's entrusted snack set ... 800 yen(tax included)
(The menu content changes according to the day, season.)

※Reception / 18: 00-21: 00 (Closed on Sunday and Monday.)
Please memorial photos to memories of the trip
Hidamari-Nuto commemorative photo☆彡

We prepared a space to take commemorative photos on the lobby floor.
Please take a picture with everyone in commemoration of the trip.
Please do not hesitate to ask the staff for shooting.

Items are also available for commemorative photos.
Please upload it to SNS with our hotel mascot character "Hidamari-nu".

hashtag
OKAYAMA VIEW HOTEL
# Hidamari-nu
There are many!  Free rental☆彡

Please contact the front desk.


·trouser presser  ·Desk lamp ·blanket
·NanoEnight Night Steamer,Hair Dryer  ·Climax  ·yukata
·Buckwheat pillow  ·Mobile charger(Compatible with docomo, au, softbank, iPad)
·Iron  ·Playing cards, UNO, children's toys, etc.

※Please note that the number is limited
Nursery school half price ticket with 24 hour storage OK is presented
From 45 days after birth, we will temporarily take care of preschool children.(Open 24 hours)
Wide game,Besides learning space,kitchen,Shower booth,toilet,Nursing room,
It is safe space with pool bus.

Leave your children and go out somewhere or relax and enjoy the hotel life without rest.
I am also happy with my mother doing work!

Half price tickets will be given to hotel guests.(It becomes half price from the following charge)
Please offer at the front desk.
I will give you a ticket that pushed the accommodation seal.

《Reference》
Basic charge Temporary keeping 800 yen / 1 hour
Extension fee 1 hour 200 yen / Every 15 minutes
Accommodation fee 3,000 yen(am 3: 00 or later)
All fees include insurance premium.
For reservation, details: 086-235-4446 (Waiwai Daycare).
Small View Book Depository
You can bring it to your room ☆ 彡

There is a "Small View Book Depository" in front of the front desk.

Business book useful for work
Heartwarming poems and novels
Self-enlightenment book
Children's happy picture book etc.

There are various books.You can bring it to your room and read it.
Please feel free to read at any time of your stay.
Benefits for praying for family well-being and business prosperity☆彡

A small Tenmangu shrine in the lobby.
Hidamari-ne hotel mascot "Hidamari-ne" protects the torii together.
If you write a wish on the original ema that is put together and attach it to the torii, your wish may come true☆彡

Please try both wishes.
I devote to the shrine an ema attached to it!
Mirroring and You tube function on the TV in your room
You can display your smartphone or tablet screen on your TV ☆ 彡

In addition to terrestrial and satellite TV, TV in the room
·More than 100 VOD(Video on Demand)system (Charge 1,000 yen)
·Information on this facility
·You tube
·Mirroring (The function to display the screen of customer's smartphone or tablet)
There are various functions such as.

Please enjoy by pushing the VOD button of the TV remote control of the room.