For Okayama, which connects the world and allows everyone to play an active role
In 1984, when the Seto Ohashi was about to open, the founder, Masayoshi Ueno, built a new hotel and created a German restaurant within the facility, which is rare in Okayama.
In the pleasant atmosphere created by German beer, authentic chefs, and waitresses, we often saw the at-home atmosphere where customers who didn't know each other sang with each other with their beer mugs in one hand and sang together.
Meanwhile, the founder often invited guests from Germany to their homes.
They served warm Japanese home-cooked meals and local sake from Okayama, and talked about the spirit of bushido while showing them the iaido dance they practiced, showing their Japanese swords, and dressing them in kimonos.
From the cheerful face of the customer as if he had returned to a child, the face of the German guest who makes his eyes shine by touching the Japanese culture that he saw for the first time, the joy of inviting people and hospitality, becoming familiar as a family It was fun to interact with each other.
Going forward, we will continue to contribute to the creation of a caring society by creating good relationships with the heart that the founder aimed for the important people.

CEO, Koichiro Ueno
What is important is a heart that always values ​​important people.
People who cherish it are those that everyone has.Those who come to work leaving important families, those who come to make fun memories with important people and so on are also various.
We also consider customers as "important people like family."I think that such feelings will reach customers as well and spread to each important person and spread out.
1.What we aim for hospitality is to create a good relationship
We would like to keep treating the edge we have met as a good partner of customers for a long time.
Because I think that creating a good human relationship to know and understand each other is the greatest hospitality.
So we are trying to convey weights from hand to hand through handover of keys and exchange of money.
2.Considering your "unexpected" usefulness
We will try to always pursue the essence of what customers want.
Always think about the best proposal for our customers, always think about the usefulness we can only do.
3.I think about your story
Customers have various stories before reaching the hotel, each with a purpose.
I think about what I can do after the staff knew it, I would like to support the staying time to be one page of wonderful memories so that I can feel comfortable to the next scene.
Human beings, making people, making moisture.
1.To people is to be able to make people 's help useful for their own pleasure.
2.To make people is to become an indispensable presence by making it to others.
3.Make a moisture is to create good influences not only on yourself but also around others by building a lot of good human relationships.
"Compassionate (OMOIYARI)" into the world standard word!
What is "OMOIYARI"?
●Mind and behavior that care about the other person
●Mind and action to think in the other party's position
●Mind and behavior that do not seek reward from the other party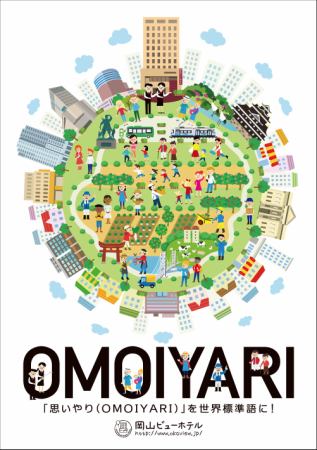 Making a scenery of my heart
By making the "view of the heart (browse) beautiful," we build a good relationship and contribute to the creation of a moist and gracious society filled with gratitude and compassion.